Have trouble getting that desired score in your IELTS examination? The good news is that am here with solutions to guide you on how to prepare for your IELTS examination. The IELTS test is a test aimed at testing the ability of non-native English speakers to listen, read and write in English. With that in mind, here are some of the best tips on how to prepare for your IELTS examination and come up with well-structured coherent answers and achieve remarkable results.
How to prepare for your IELTS examination
Book the Test
As simple as it may sound, booking the test in advance can be a step closer to helping you pass the IELTS exam. Think about how many times you have had to make a rash decision? Or how many times you have done your works in a hurry? Was the turn-out fantastic? I guess the answer is NO. The same case applies to your IELTS exams. If you rush everything in a hurry. You probably won't achieve the most out of it. I advise you to book the exams at least 14-15 days in advance, plan on how you are going to revise for the exams. This will save you a lot of stress that is from lack of time for preparation. It will also give your mind the right psychological environment for the test.
Understand the format of the Test.
You have to have knowledge of each section of the test and how much time is allocated per section. The IELTS has four sections. The first section is Listening. This section is done for a maximum of 40 min. For the Paper Based Test, the minutes are divided into 30 minutes for listening and 10 minutes for answering questions based on what you've heard.
Reading is another section of the IELTS exam. This is the hardest part of the test. You have to have background knowledge of all the instructions required to answer this section. To excel in this test, you have to practice adequately for the test. For instance, if you are doing a General Training IELTS test, you will have to read more about job descriptions, contracts, and advertisements.  On the other hand, if you are taking an Academic IELTS test, you will focus more on reading books, magazines, journals, and newspapers.
Another section is writing.  Here you only have to have good handwriting if you decide to go for the Paper Based Test. However, if you feel you don't have perfect handwriting, consider a computerized test to avoid losing out on marks.
Speaking Test is the fourth section. Here you will be required to display your verbal skills. It can take up to 20 minutes depending on the examiner. However, note that this isn't a normal conversation. Practice adequately.
Understand how the exams are assessed.
Try to have background knowledge on the marks allocated to each section and how marks are calculated to give you a certain band. This will help you in setting targets for each section. This might help you in preparing for your IELTS. Here is an example of how IELTS scores are awarded;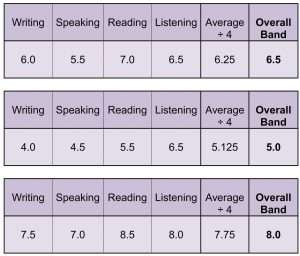 Take an official Practice Test
This can also be referred to as a mock test. This will help gauge your potential. For example, if you have done the test before and scored a band 6 or less you will be able to know where you stand. From there, you will be able to set clearly defined goals as far as your IELTS test is concerned. If you want to achieve a band, let's say, 8 or 9, it will be achievable knowing where you are as a person.
Set your Targets
This applies to all those taking Academic IELTS and General Training IELTS. If you are doing the Academic test, you will have to focus more on your weakness. This is because most learning institutions will require you to have band 7.0 in all sections, that is, listening, reading, writing, and speaking. Focusing on your weakness will help you improve on the sections in which you didn't perform well giving you that spot into your dream university. On the other hand, if you are taking the General Training Test, you will be required to have an average of band 7.0 in the entire test. Here, the secret is to maximize your strengths. In that, if you are scoring 8.0 and 7.0 in writing and listening respectively, why not take the grade a notch higher to band 9.0. This will in turn raise your average performance. Since you can score 6.0 in the remaining section and still ace the entire test.
Prepare adequately for the Test
What does this mean? You have to prepare in terms of acquiring the specific materials for your test. This will train and enlighten you on the different requirements that the examiners want from you. It will give you a glimpse of what to expect from the IELTS test.
A good example of a study resource is Magoosh videos. The videos are very informative and will give you the requisite knowledge in terms of; Strategies to tackle each question, explain the format of the test and question types.
You can also get the Cambridge IELTS resources for testing yourself with a question. You can acquire Cambridge IELTS 10-15 and also their audio clips. This will help you study since they also have side-by-side questions. You can start by reading 3 Cambridge IELTS books, let's say, 10, 11, and 12. Try out the questions in an untimed environment, each section at a time. Then later finish the remaining books and carry out a full test in a timed environment.
NOTE; after each test review your work to know where you went wrong, find loopholes, and check for answers on sections you weren't understanding.
Final Thoughts.
During a speaking test, don't expect too much from the invigilators. Even if you don't get a greeting or warm welcome, try not to lose your composure and just focus on the test.
Try to grasp as much English vocabulary as possible during the last 14 days before you sit for your test.
Practice speaking English, that is, from Phone calls, in restaurants, and customer care services.
Know the location of the test. Arrive at the location at least 30 minutes before to avoid panicking.
Try out Grammarly premium

to gauge yourself on your written practical essays. Grammarly will assess your essay and award you an average performance mark. It will also show you your writing's clarity and delivery.
Read instructions carefully to avoid messing up and losing marks.
Revise your answers before you submit your paper for marking.
Get a goodnight's sleep on the night before the exams. A study has it that it will give you mind the right psychological environment for the test.
All the best in your IELTS Test.
About Author